Hafjell Bike Fest
Date: Thursday 30 jul 2020
- Sunday 2 Aug 2020
Hafjell Bike Fest, 30.July - 2th of August, undoubtably the highpoint of the season. Not only will the Bike Park be open Thursday through to Sunday, there will also be a whole host of other activities occurring throughout the day for everyone, both big and small.
Hafjell Bikefest is back for summer 2020!

This year's event will be packed with activities for the young, the old and everyone in between!

There will be: Bike races, concerts, bike clinics, parties, quiz nights, video show, braaap off and much more!

This is the one weekend you would not want to miss out, so book it in to your calendar already now and we will come back with more information and a full program in spring!
Apartments
Distance: 231 meters
Hafjell Alpinlandsby plus are modern apartments each of 35 sqm and are practical and delicate. All the apartments are in the same building right by the family ski slope of Hafjell and walking distance to ski hire, ski school and restaurants.
Accommodation
Distance: 271 meters
The Lodge of 450 sqm has a great location on the Olympic trail (ski in ski out 25 meters). Close to the Lodge Restaurant Food & Drink. Practical floor plan with open living / kitchen area and plenty of seating for everyone. Fireplace area with sofa. Great honeymoon suite with four-poster bed on the top floor. The cottage is perfect for corporate meetings, seminars, celebrations and social gatherings.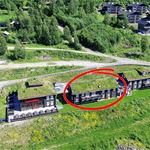 Accommodation
Distance: 251 meters
The house of 400 sqm has a great location on the Olympic trail (ski in ski out 25 meters) overlooking Hafjell Alpine. Short distance to the lodge restaurant Food & Drink. Practical floor plan with open living / kitchen area and plenty of seating for everyone. Fireplace area with sofa. The log cabin is perfect for corporate meetings, seminars, celebrations and social gatherings. The log cabin is of a good standard with sauna, fully equipped kitchens,