Consert with Vamp
Category:
Festival and events, Culture
Date: Saturday 3 aug 2019
Family friendly summer concert with the Norwegian band Vamp at Maihaugen outdoor museum in Lillehammer
Vamp (initiated in 1990) is a folk-rock band from Haugesund, Norway[1] with founding members Øyvind Staveland, Calle Øyvind Apeland, Paul Hansen, Bjørn Berge, Odin Staveland and Tore Jamne. The band's musical profile is a mix of Norwegian traditional folk music combined with rock.
Chalet
Distance: 12.5 km
Beautiful chalet right next to Gaiastova with 153 m2, 14 beds and four bedrooms. Ski in / out for cross country skiing and alpine skiing. The chalet is located in a quiet area of ​​Hafjell with panoramic views of Hafjell and Gudbrandsdalen.
Chalet
Distance: 12.2 km
Cozy and traditional family cottage at Hafjell with 8 beds. Large terrace with panoramic views. Ski in - ski out to the ski slopes. Short driving distance to Gaiastova with cross country trails. Quiet and established cottage area with car road right up to the cottage. Stunning view from the cabin across the valley.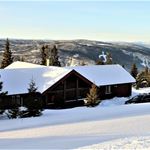 Chalet
Distance: 12.2 km
Traditional and practical cottage in Hafjell Panorama cabin area of ​​120 m2 with ski in ski out to ski slope number 35 in Hafjell Alpine ski resort. (100 meters) From the cottage you have a view of Gudbrandsdalen valley. The cross-country ski tracks at Gaiastova are 2 km away.