Music Festival Lillehammer
Date: Saturday 15 jun 2019
What is Music Festival Lillehammer. The Fête de la Musique, National Music Day, or Music Festival is now available in more than 100 countries worldwide. The common denominator is that the music is mostly outdoors, the artists perform free of charge and everything is free to the public.
Music Festival Lillehammer went off for the first time in 2017 with over 40 different elements, about the same in 2018.
Music festival Lillehammer 2019 will be held on Saturday 15 June during the Lillehammer days. Join the audience and take part in a full day of free music experiences for the whole family.

Music Festival 2019 is an initiative to hold Music Festival on a fixed annual basis in Lillehammer. Contributors and partners: UKM Norway, UKM Oppland, Lillehammer municipality, Gausdal Municipality, Øyer Municipality, Oppland County Council and Lillehammer Sentrum Drift.
Chalet
Distance: 11.9 km
Cozy and traditional family cottage at Hafjell with 8 beds. Large terrace with panoramic views. Ski in - ski out to the ski slopes. Short driving distance to Gaiastova with cross country trails. Quiet and established cottage area with car road right up to the cottage. Stunning view from the cabin across the valley.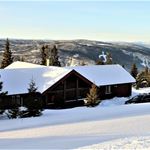 Chalet
Distance: 11.9 km
Traditional and practical cottage in Hafjell Panorama cabin area of ​​120 m2 with ski in ski out to ski slope number 35 in Hafjell Alpine ski resort. (100 meters) From the cottage you have a view of Gudbrandsdalen valley. The cross-country ski tracks at Gaiastova are 2 km away.
Chalet
Distance: 12.2 km
Beautiful chalet right next to Gaiastova with 153 m2, 14 beds and four bedrooms. Ski in / out for cross country skiing and alpine skiing. The chalet is located in a quiet area of ​​Hafjell with panoramic views of Hafjell and Gudbrandsdalen.