Lillehammer Blues Event
Category:
Festival and events, Culture
Europe's Best Soul Blues Band KING KING (UK) to Lillehammer in April 2019. In 2017, Glasgow King King won what could be won by British Blues awards. Best Band-Best Album and Best Song.
Better it can not be when one knows that among the nominees there was also Eric Clapton. King King has in recent years played them all the way in the world's favorite genre. With powerful Alan Nimmo in the lead as a fantastic vocalist and guitarist King King has established himself in the top.

King King was in the summer of 2018 one of the headlines at the Notodden Blues festival and has a music festival in Europe. This can quickly be one of the most powerful concerts in Lillehammer for a long time. Like a real shot, silent Alan Nimmo in the kilt on stage.

Lillehammer Blues Event 2019 at Lillehammer is a collaboration with Stena Line where the artists the day afther will embark on Stena's Outlaw Cruise 6-7 April on the cruise between Oslo and Frederikshavn.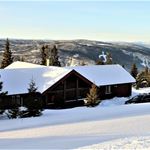 Chalet
Distance: 12.1 km
Traditional and practical cottage in Hafjell Panorama cabin area of ​​120 m2 with ski in ski out to ski slope number 35 in Hafjell Alpine ski resort. (100 meters) From the cottage you have a view of Gudbrandsdalen valley. The cross-country ski tracks at Gaiastova are 2 km away.
Chalet
Distance: 12.1 km
Cozy and traditional family cottage at Hafjell with 8 beds. Large terrace with panoramic views. Ski in - ski out to the ski slopes. Short driving distance to Gaiastova with cross country trails. Quiet and established cottage area with car road right up to the cottage. Stunning view from the cabin across the valley.
Chalet
Distance: 12.5 km
Beautiful chalet right next to Gaiastova with 153 m2, 14 beds and four bedrooms. Ski in / out for cross country skiing and alpine skiing. The chalet is located in a quiet area of ​​Hafjell with panoramic views of Hafjell and Gudbrandsdalen.