Stampesletta sports park
Address: Nordsetervegen 43, 2618 Lillehammer
Show map


Address: Nordsetervegen 43, 2618 Lillehammer

Stampesletta sports park is located south of Kristins Hall and Håkons Hall. Stampeletta sport park consists of athletics facilities, artificial turf, 3 grass lanes, gravel track and grass field. In addition, there is a wardrobe facility, storage room and stand between the athletics track and the artificial turf track
Stampesletta sports park is located south of Kristins Hall and Håkons Hall. Stampeletta sport park consists of athletics facilities, artificial turf, 3 grass lanes, gravel track and grass field. In addition, there is a wardrobe facility, storage room and stand between the athletics track and the artificial turf track

Lillehammer Sports Association and Lillehammer Women's Football Club built in 2004 and 2005 clubhouse, located on the north side of the tribune building. Lillehammer Football Club with partners has its clubhouse in the south end of the artificial turf track.

The football fields at Stampesletta are the home of Lillehammer Football Club and Lillehammer Women's Football Club. In addition, the artificial turf track is used as a winter course for all football teams in the municipality.

The sports stadium has 8 courses all around. The facility was rehabilitated in 2017. Lillehammer Idrettsforening has in recent years conducted a number of major events including the Norwegian championships in athletics in 1995 and 2009, the Nordic championship for veterans in 1997 and in 1998. Each year, they jointly organize Gausdal FIK and Moelven IL one of Norway's largest athletics event for youth Veidekkelekene in June.
Show more
Chalet
Distance: 11.3 km
Beautiful chalet right next to Gaiastova with 153 m2, 14 beds and four bedrooms. Ski in / out for cross country skiing and alpine skiing. The chalet is located in a quiet area of ​​Hafjell with panoramic views of Hafjell and Gudbrandsdalen.
Chalet
Distance: 11 km
Cozy and traditional family cottage at Hafjell with 8 beds. Large terrace with panoramic views. Ski in - ski out to the ski slopes. Short driving distance to Gaiastova with cross country trails. Quiet and established cottage area with car road right up to the cottage. Stunning view from the cabin across the valley.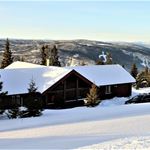 Chalet
Distance: 11 km
Traditional and practical cottage in Hafjell Panorama cabin area of ​​120 m2 with ski in ski out to ski slope number 35 in Hafjell Alpine ski resort. (100 meters) From the cottage you have a view of Gudbrandsdalen valley. The cross-country ski tracks at Gaiastova are 2 km away.