Skiers lunch at Gaiastova
Address: Lunnstadmyrveien 250, 2636 Øyer
Show map

Address: Lunnstadmyrveien 250, 2636 Øyer

Gaiastova restaurant Hafjell is known for its Skiers Lunch - tasty and filling lunch for active skiers and non skiers. Our Gaia Burger has been voted as the best in Hafjell one of Norway's largest newspapers. From our restaurant you have a wonderful panoramic view over the mountains!
Skiers' lunch
Gaiastova is known for its Skiers' lunch - tasty and filling lunches for active skiers. From our restaurant you have a fantastic panoramic view over Gudbrandsdalen Valley. Come and enjoy a nice meal in a warm and charming setting in our lunch restaurant or have a drink in front of the fireplace.

The mountain restaurant Gaiastova have also a spacious, sunny deck where you can share a warm lunch and splendid view over the valley.
Show more
Contact information
Contact person email
Opening hours
Lunch 11 - 16 FIREPLACE LOUNGE Sunday - Thursday 11:00 to 4:00 p.m. Friday 11:00 to 1:00 Saturday 11:00 to 11:00 p.m. LUNCH All days 12:00 to 4:00 p.m. (Friday until 18:00, Saturday until 20:00) GAIA TAPAS Fridays 16 - 01 and Saturday from 13.00 to 23.00 AFTER SKI Saturday from 15.00 to 20.00 GAIA NIGHTCLUB Saturday from 23.00 to 02.00
Chalets and apartments
Distance: 84 meters
Hafjell Resort has for rent an 8 bed apartment at Gaiastova. The apartment is located on the ground floor of the apartment building of Hafjelltoppen Apartments and is on one level.
Chalets and apartments
Distance: 96 meters
Six apartments next to Gaiastova on Hafjelltoppen. The apartments of 130 m2 are located in the very attractive area in the mountain at Gaiastova restaurant on Hafjelltoppen. Perfect location for alpine skiing and cross country skiing in the mountain. Only 200 meters to Gaiastova with restaurant, bar, après ski, grocery store and ski rental.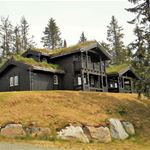 Chalets and apartments
Distance: 387 meters
Beautiful chalet right next to Gaiastova with 153 m2, 14 beds and four bedrooms. Ski in / out for cross country skiing and alpine skiing. The chalet is located in a quiet area of ​​Hafjell with panoramic views of Hafjell and Gudbrandsdalen.