Norwegian Olympic Museum
Address: Maihaugvegen 1, 2618 Lillehammer
Date: Friday 16 apr 2021 - Tuesday 31 Aug 2021
Show map




Address: Maihaugvegen 1, 2618 Lillehammer

The Norwegian Olympic Museum in Lillehammer is the only museum in northern Europe that tells the entire history of the Olympic Games from 776 BC up until the present day.
The Norwegian Olympic Museum is the only museum in Northern Europe presenting the entire history of the Olympic Games, from their origin in ancient Greece in the year 776 BC up to the present day.

The museum is Norway's largest and most important sports museum, and is responsible for managing a national cultural treasure that has fascinated Norwegians for more than 100 years.

At the Norwegian Olympic museum you get to relive magical Olympic moments through a large collection of historical objects.

To mention every object will be too extensive, but an example is how clothes and equipment that was top moderns some years ago, today bring a smile on our lips.

You will find medals, pictures, objects and gadgets and even one of the most important Olympic symbols; the torch. The torch from the opening ceremony in 1994 and the torch from Sotchi are both present in the collection.

The different objects all tell their stories about sports, development and the time they represent. Different objects bring out different associations. Magical moments can be created by just a glimpse of a pair of skies, a picture or a medal.

Maihaugen is situated within walking distance of the centre of Lillehammer and the railway station. There are signs for the museum on the E6. There is a large car park on the northern side of the visitor center.

CONTACT US
Maihaugvegen 1, 2609 Lillehammer
Telefon: +47 61 28 89 00
Monday - Friday 0900 - 1530
Email: [email protected]
Show more
Contact information
Contact person email
Opening hours
September - May: Tuesday – Sunday: 11:00 – 16:00 Monday: closed June - August: Monday - Sunday: 10:00 - 17:00 Closed 1st of January, 1st of May, 17th of May, 24th.-25th of December, 31st of December
Chalets and apartments
Distance: 12.3 km
Traditional and practical cottage in Hafjell Panorama cabin area of ​​120 m2 with ski in ski out to ski slope number 35 in Hafjell Alpine ski resort. (100 meters) From the cottage you have a view of Gudbrandsdalen valley. The cross-country ski tracks at Gaiastova are 2 km away.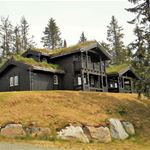 Chalets and apartments
Distance: 12.5 km
Beautiful chalet right next to Gaiastova with 153 m2, 14 beds and four bedrooms. Ski in / out for cross country skiing and alpine skiing. The chalet is located in a quiet area of ​​Hafjell with panoramic views of Hafjell and Gudbrandsdalen.
Chalets and apartments
Distance: 12.8 km
Six apartments next to Gaiastova on Hafjelltoppen. The apartments of 130 m2 are located in the very attractive area in the mountain at Gaiastova restaurant on Hafjelltoppen. Perfect location for alpine skiing and cross country skiing in the mountain. Only 200 meters to Gaiastova with restaurant, bar, après ski, grocery store and ski rental.